"The most dangerous creature, A hobo"
08/06/2020
Oh no Char, watch out for stinky Dar!
GUEST COMIC by @LEMUZAURIO PLEASE CLICK ON THE TITLE OF THIS COMIC PAGE TO GO TO THEIR TWITTER ACCOUNT!
I'm trying to adjust the site a bit and code a tad so please excuse any upcoming bugs on the site.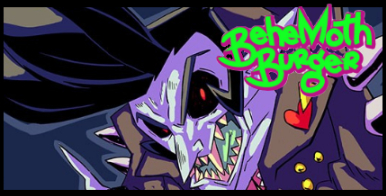 Lemuzaurio also manages his own webcomic, "Behemoth Burger" it's one of my favorite webcomics! Click on the image above to access it!
Hope you guys are enjoying the new site, am excited for a few new things to come on the site as well.
Not too much to say for this week, I myself am going through some heavy news, BUT NO MATTER, BCCR WILL ALWAYS CONTINUE. I'm very thankful for these guest comics haha, I'm glad you guys get to see this AWESOME WORK!
BCCR will return september so be on the lookout for that!
Tons more guest comics in the work until then, I really hope you guys enjoy them, because I've been loving them all!
Also be sure to check me out on twitter @GENC____ for more updates to come, and general updates!
See you Saturday, adios!
-GENC